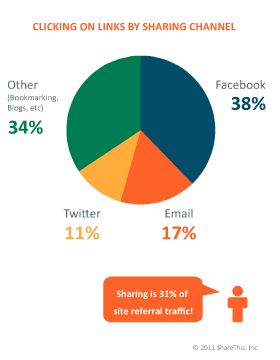 ShareThis, Starcom MediaVest and Rubinson Partners have released the results of the largest analysis of sharing patterns ever published.  The team analyzed the digital patterns of sharing via the ShareThis widget, across 7 billion pages of content viewed in March 2011.  The analysis encompassed 300 million users and more than 1 million different domains.
The results are quite fascinating, and underscore just how significant sharing activity has become in driving internet traffic.
Sharing generates more than 10% of all internet traffic, and 31% of all referral traffic to sites from search and social.
Facebook is the largest sharing channel, with 38% of all clicked shared links.
Twitter, however, generates more clicks per share:  links shared on Twitter get an average of 4.8 clicks, while those shared via Facebook  get an average of 4.3 clicks.
The Influencer vs Networked Influence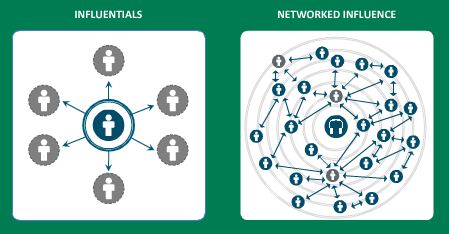 More than 80% of people who share digital content do so within only one of the 27 different topic categories tracked by ShareThis.  And 50% of the in-bound traffic comes from those who only share links from one content category.   This means that marketers should focus on reaching a larger number of people who are influential in a specific category, rather than a small number of individuals with very large networks.  As Joel Rubinson says, "the Duncan Watts hypothesis (that anyone can be an influencer in a given subject area that is relevant to them) is closer to the truth that the Gladwell concept of influencers."
Sharing, Realtime Relevance and Scaling the Audience
Because sharing is ubiquitous, a "share" indicates a realtime moment of interest or relevance that marketers can leverage to target consumers who may be receptive to a specific message.  And, when someone does share in multiple categories, they can be grouped together into "super clusters."  For example, someone who shares beauty-related content is also likely to share clothing-related content.  Parenting, Health, Pets and Sports form another cluster of sharing topics.  This gives marketers opportunities to scale and  find audiences that are based on moments of relevance.
Shopping is social.  People tend to compare notes and ask for opinions from friends before they've reached a conclusive decision about a purchase.  If marketers can use these trends to target audiences around realtime sharing activity, they are likely to reach them at a very important stage in the sales funnel.
Check out the full report: