A recent study by Millennial Media revealed that only 40% of mobile advertising campaigns in October 2011 were targeted, while the remaining 60% had a broader reach.  Two-thirds (66%) of the targeted campaigns were based on location, and the other 34% were targeted based on behavior and demographics.
Mack McKelvey, SVP of marketing at Millennial Media, said "There is a ton of promise with mobile for more targeted campaigns," but that the broad targeting in October came from marketers "seeking a larger reach heading into the holiday season," according to Direct Marketing News.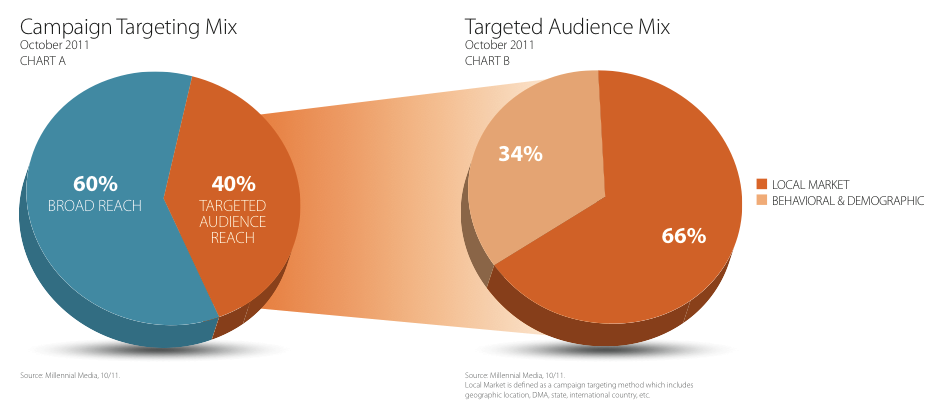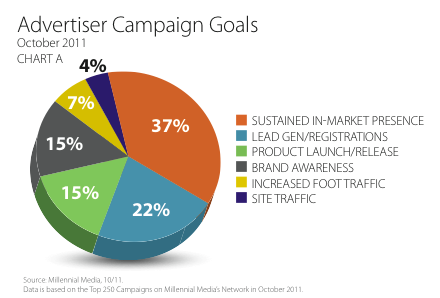 Mobile advertising campaign goals focused on:
sustained in-market presence – 37%
lead generation/registrations – 22%
brand awareness – 15%
product launch/release – 15%
increase foot traffic – 7%
The majority of mobile advertising campaigns – 56% – directed customers to the company site.  Only 29% of campaigns led consumers to download an app, and 15% sent them to a custom landing page.
Among the post-click actions that might appear within an app, landing page or webpage, the most popular was downloading an app, at 40%. Nearly one-third – 31% – of campaigns asked consumers to enroll, join or subscribe to a marketing list after they clicked on the ad. Other post-click actions included watching videos (25%), locating a store or placing a call (both at 23%), viewing a map (22%) or sharing social media via mobile (21%).
Will locally targeted mobile ads catch on? According to McKelvey, they're a "great draw" for national advertisers looking to drive local foot traffic, and advertisers are "are starting to replace their traditional ad buys from radio and local newspapers with mobile, where they know that they can target a local message."
The data is part of the October 2011 Scorecard for Mobile Advertising Reach and Targeting (S.M.A.R.T.), which delivers monthly insights on key trends in mobile advertising based on actual campaign and network data from Millennial Media, Inc.