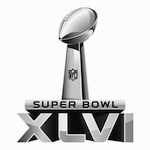 This year's Super Bowl XLVI, hosted by Indianapolis, will feature a social media command center for the first time in Super Bowl history. Opening today and running through the Super Bowl on Feb 5, the command center will monitor digital fan conversations via Facebook, Twitter and other social platforms.
Taulbee Jackson, CEO of Raidious (the agency that will be managing the command center) told Mashable that "Social media is just how people interact now." With 150,000 people expected to enter Indianapolis for the game weekend, social channels are sure to be busy and many fans will be looking for parking, local attractions, and information surrounding the game.
How will this massive communications hub function?  Located in a 2,800 square foot space in downtown Indianapolis, the center will have a staff of 50 rotating in and out for 15 hours each day. Jackson told MSNBC that "It's the first time any facility like this has been built to manage social media for such a large event."  Raidious will take over the space (as a new, bigger office) following the event.
The team – part Raidious staff, part journalism/telecommunications students – will "focus on social media management and moderation," as well as content development for posts about game-related events/activities and Indianapolis recommendations, catering to fans visiting from the New York and New England areas. Analytics and search tools using key phrases (limited by geo-targeting for the Indianapolis/Indiana area) will enable them to help fans find parking, places to eat and more.
Is there a need for this level of social media response?  Sports fans are eager to show their support on Twitter and Facebook, with recent record-setting tweets about Tim Tebow and with the Packers winning the Super Bowl being the 2nd most popular Facebook status update in 2011 (beaten out by Osama bin Laden's death).  They are eager to engage with team members and other fans on social channels, and Super Bowl XLVI is determined to be there listening, engaging and meeting fans' needs.
Will social media response – on this impressive a scale – set a precedent for future brand and sporting events?  What do you think?