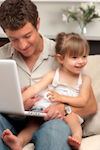 It's not just moms who are posting family-related updates, photos and videos:  first-time fathers are also engaging heavily with social media, according to a February 2012 survey by Edelman and The Parenting Group.
"First-time dads are more likely than dads of older kids to share information about their family on social media," according to the study. In the US, 42% write family-related status updates on a daily basis.  More than half of new dads (56%) in the U.S. post family photos on social media at least a few times per week, and 21% post family -related videos.  (New dads are defined as those whose oldest child is age 2 or younger.)
Millennial dads even have more online friends than millennial moms, with an average of 96 friends online vs. an average of 70 for moms.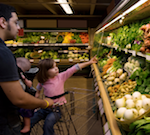 Another study (by Arbitron and Edison Research) revealed that dads are also taking on more of the shopping and other household activities. Mark Wildman, vice president and group publisher of The Parenting Group, told eMarketer, ""The nurturing, the cooking, the food buying—I am doing it in partnership with my wife." These dads are also following household-related brands on social networks – 25% of dads did so back in February of 2011.  This number is likely to have risen significantly over the past year.
"Dad's role and voice needs to be taken seriously," says Missy Maher, Edelman's Director of Mom Foresight. "Marketers in particular need to think about how dads are impacting and influencing decisions when it comes to their families and the brands they are choosing."
eMarketer concludes that "Marketers targeting dads should reach out to them as parents first, dads second."  And social media looks like an effective place to start.