The #RLTM Scoreboard:  Social Networking Stats for the Week
Please email marissa@modernmediapartners.com if you have additional updates, or a social network that you feel should be on the list.
Google+ Tops 100 Million Active Users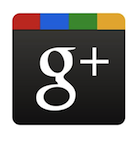 An April 11th post on Google's official blog by Vic Gundotra, Senior Vice President of Google, announced that 170 million people have upgraded to Google+.   This comes less than a week after Google CEO Larry Page confirmed that the social network now has 100 million active users (those who log on at least once per month) in a post on Google's Investor Relations blog.
These numbers were announced just as Google rolled out a redesign for Google+, "introducing a more functional and flexible version of Google+" that "accelerates our efforts to create a simpler, more beautiful Google," according to Gundotra.
The new design is "much prettier and easier to navigate than its predecessor," according to The New York Times, with icons now sitting on the left of the screen, allowing users to navigate quickly between different areas of Google+.  The previously oversize input box is much smaller, and photo sharing has become a huge focus for the social network – photos are "seamlessly" incorporated in each user's stream, and feature hidden icons that give users options without cluttering up the screen.
Next steps? The Google+ redesign does not yet extend to mobile. Google spokeswoman Kat Eller told The New York Times, "Today, the mobile experience will not change, but we are looking at ways to integrate these changes into mobile devices."
Even if Google+ manages to redesign its mobile experience quickly, will it be any match for Facebook – now that the social networking giant has acquired mobile photo-sharing service Instagram?