The #RLTM Scoreboard:  Social Networking Stats for the Week
Please email marissa@modernmediapartners.com if you have additional updates, or a social network that you feel should be on the list.
Gnip Now Tracking 90 Billion Social Media Activities Monthly, Adds Tumblr To A Growing List of Partners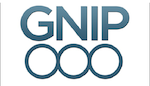 Social data startup Gnip already offers data from Twitter, Facebook, Google+, Disqus, WordPress, YouTube, and China's Sina Weibo.  On Wednesday, Gnip announced an exclusive partnership with Tumblr to pull in social data from Tumblr's 50 million plus blogs.
Gnip told TechCrunch that it's now delivering more than 90 billion social media activities each month, up from 30 billion in November.  This number will only continue to grow with the addition of Tumblr's data. According to Gnip's President and COO, Chris Moody, "Tumblr…offers an immense amount of text based content (5 million text based posts per day)."
Moody said that the goal is to be "the single source of record for all public conversations online."  Gnip then sells this data to enterprise customers, who use it to build social media monitoring tools or add social content into their products.
How is Tumblr's content relevant to advertisers?  Moody says "we see conversations happening on Tumblr that aren't happening elsewhere on topics that aren't typically discussed on other platforms," and cites examples – including posts filled with comments about Land Rover and Urban Outfitters – that received no mention on other platforms.  And given Tumblr's 300% growth in 2011, it clearly has potential as a hotspot for advertisers.  According to The Next Web, "searches for Tumblr are expected to surpass searches for "blog" by October of this year."
Tumblr's Katherine Barna told TNW that this deal is the first of its kind for Tumblr: "This is the first time we have made this data available in a convenient, real-time format."

The partnership with Gnip comes just as Tumblr announced its "first foray" into paid advertising.  The "Radar" post – which appears on a user's dashboard – will be offered as an ad unit starting on May 2nd.  Tumblr already has 15 partnerships in place where brands are using the "Radar" space to promote their content.
Despite having previously announced that "We're pretty opposed to advertising. It really turns our stomach," Tumblr CEO David Karp is now promoting advertising as long as it involves the "creative ingenuity" that is already on the site.  At AdAge's Digital Conference he spoke of ads on Google and Facebook as being "devoid of creativity."
Will Tumblr be able to avoid that trap, and keep their advertising model fresh and exciting?