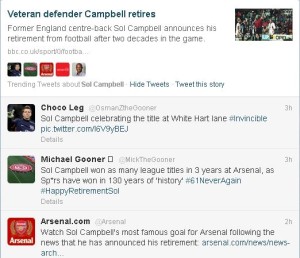 Last December, Twitter introduced a major redesign.   One of the biggest features of that redesign was the new Discover tab, designed to position Twitter as a content discovery tool and make the platform more accessible for users who may be more interested in content consumption, as opposed to content creation.  Just a few months later, Twitter has announced it is revamping the Discover feature to give users even more personalized recommendations.
The company is also making some un-announced changes to its user interface.  Additionally, Twitter app developer Bonfire has reported that Twitter may now be showing @Replies from people you don't follow in your stream.  This is a significant change to the logic driving the home page feed for Twitter users and, if true, could potentially more clutter to your stream.  It's not clear whether this change and other subtle changes Twitter is making to its UI are related to the Discover update.
According to a blog post by Twitter VP of Product Satya Patel, the new Discover will:
Incorporated additional "personalization signals" to select Discover stories, such as Tweets that are popular among the people you follow, and the people they follow.
Show who tweeted about particular stories that are recommended. You can click "View Tweets" on any story to see popular Tweets from your network or other recent, relevant Tweets directly below the story summary, and then engage with those Tweets by replying or retweeting them.  You can see in the screenshot at top how this cam immediately provides more context to a given story, too.
The new design will be rolled out on Twitter.com, iPhone and Android "in the coming weeks."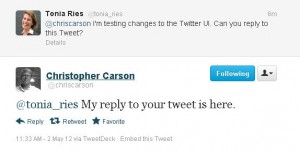 Along with this Discover redesign, Twitter is also making some additional tweaks to its user interface, which it has not announced.   Tweets now automatically show the reply / retweet / favorite links on mouse-over, and, when viewing a Tweet on a status page, those functions are now placed underneath a tweet, as opposed to the bottom right.  It's not clear if Twitter is simply testing to see if these changes will increase user engagement, or if these changes will be permanent.
Are you seeing these changes?  What do you think?  And do you think that the Discover feature will catch on as more people "discover" it?