How are companies using Facebook for Mother's Day marketing strategies?  Zales and 1-800-Flowers.com both consider the social network integral to their Mother's Day advertising, though each brand uses Facebook in a very different way.
1-800-Flowers.com is using Facebook to jump-start conversations about Mother's Day, asking the brand's more than 465,000 fans which flower arrangements they like best for Mom.  Facebook serves as an "optimization analysis tool" — 1-800-Flowers.com president Chris McCann told Adweek that "it allows us to really tweak and optimize the marketing messages and the products that will be featured throughout the rest of our marketing program as we get into the full swing of the holiday."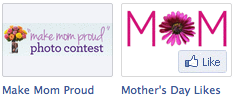 The 1-800-Flowers.com Facebook page prominently features the "Make Moms Proud" photo contest and "Mother's Day Likes" at the top, right next to the brand's Photos.  Recent posts related to Mother's Day include an "exclusive Facebook deal" to save $15, which received over 3500 likes, 400 comments, and over 7800 who "claimed this offer" (all within 28 hours of the original post).
The "Make Moms Proud" photo contest on Facebook asks fans to vote on user-submitted photos of consumers with their moms. These photos are not only posted on the brand's Facebook page, but can also be pulled into Sponsored Stories ads for the brand.  This tactic was highly successful last year: one Sponsored Story ad featuring a military mom stationed in Afghanistan reached "three times the engagement level of any other ad that we ran," according to McCann.
In contrast, Zales considers Facebook to be the "anchor" for their "SuperMom" campaign, which also includes TV, print, catalogs, online display, email, the Zales site, Twitter and Pinterest.  While Facebook also anchored the brand's Mother's Day efforts last year, this time the social network serves "as a destination as well as a redirection hub," Adweek reports.  Fans were able enter their Mom to win a $2,500 Zales gift card through the SuperMom Facebook app, which also connects to Zales gift ideas on Pinterest or the brand's Twitter feed (which has over 11,000 followers).

The Zales Facebook page has over 680,000 likes, and as part of the Mother's Day campaign the cover photo proclaims the brand to be "The Celebrate Your SuperMom Store." While the "SuperMom" contest is now closed, it received nearly 7,000 submissions.
How is your brand using social networking platforms like Facebook for holiday or other themed campaigns?