The #RLTM Scoreboard:  Social Networking Stats for the Week
Please email marissa@modernmediapartners.com if you have additional updates, or a social network that you feel should be on the list.
Google+ Content Engagement Up 65% for Top Brands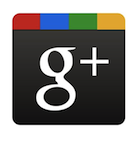 Six months after Google+ opened up to brands, 64 of the Interbrand Top 100 Brands are now on Google's social network and overall activity is on the rise, according to a recent study by Simply Measured.  Content engagement is up 65%, and average weekly circler engagement is up 112% since February.
Some additional highlights from the report:
22% of the brands now have over 100,000 Google+ users in their circles, up from 13% in February
the total number of circlers (those who've added brands to their circles) increased by 138% since February
the top 3 brands (by number of circlers) are: Ferrari (730,831), H&M (684,670) and Gucci (585,129)
the vast majority of Google+ activity takes place during the work day
The majority of circlers are spread across the 22 brands with 100,000 circlers or more, with an ever-widening gap forming between #22 (Armani, with 111,000 in the brand's circles) and #23 (Adidas, with only 26,000).  Simply Measured believes it will become increasingly difficult for brands to catch up as this gap widens further, but Nike managed to grow from launching a Google+ page to topping 100,000 followers in just the last two months.
How did Ferrari end up with the most circlers and the second best engagement score among the top 10 brands?  Simply Measured credits three main elements of their strategy: being an early brand adopter, posting frequently, and sharing a high volume of multimedia content (photos and videos).
See the full study "Google+ Brand Page Adoption and Engagement Are on the Rise" for a breakdown of Google+ brand pages and engagement by industry.
While the scale of brand activity on Google+ still "pales" in comparison to Facebook and Twitter, Simply Measured concluded that "With engagement on the rise, early adopters are growing their audience and the general opportunity for brands is compelling."
What do you think?