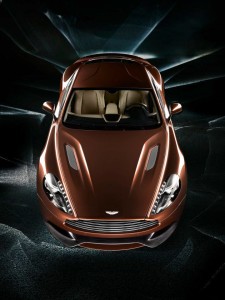 Aston Martin, the luxury British automotive brand, saw visits rise over 100% on its website as a result of a social media campaign in Germany, the US and the UK.  Designed to market the new Vanquish model, the campaign used Facebook, Twitter, YouTube and the Aston Martin website to achieve impressive results, with the brand seeing the highest traffic ever on its website during the first three days of the campaign.
The campaign began on June 20th, featuring a digital car configurator, images and a video, as reported by Luxury Daily.
The highlights:
June 20-22 were the three highest traffic days on the Aston Martin website
Daily visitors doubled in the first seven days of the campaign
Compared to the same period seven days earlier, visitors increased 216% in the German market; 162% in Britain; 102% in the US; and 81% in China
The brand gained more than 4,000 new 'likes' for its Facebook page on the first day of the Vanquish campaign
Aston Martin's Twitter follow rate doubled during the three first days of the campaign
"Luxury automotive brands have communities of people that are incredibly passionate about their product," explained Jenn Heinen, associate director of social strategies at Morpheus Media, New York.
On June 20, the campaign kicked off on the Aston Martin Facebook page with a link to the Vanquish section of its Web site, a stunning photo of the new car.  On that same day, the automaker updated its Timeline cover photo and posted the Vanquish YouTube video and a link to the online configurator.
Aston Martin reposted the link to its site and its Vanquish images multiple times throughout the first day, and then released one new Vanquish image per day for the first few days of the campaign. An image posted June 21 got more than 25,000 'likes,' the most for any of the brand's Facebook images to date.  Several additional images received over 15,000 likes, and the combination of car porn and fresh content is keeping fans engaged.
Meanwhile, the automaker also took its heavy push of the Vanquish to its Twitter feed, where it posted similar content, but with the hashtag #Vanquish. All of the links posted led to photos and the configurator on the Aston Martin Web site as well as the YouTube video.
The YouTube video called "Aston Martin Vanquish – A Bold New Breed of Aston Martin" has received nearly 250,000 views since its June 20 release. This is the fastest-growing video the brand has produced to date, and it was ranked as one of the top 50 YouTube videos worldwide for June 21.
According to Vic Drabicky, a New York-based luxury and premium brand digital strategist, "luxury brands are often too scared to venture into the social media space, but when done correctly, it will build your brand and invigorate your true brand fans and loyalists."