Unless you live under a rock, you've already heard about Felix Baumgartner's record-setting jump from the edge of space, a publicity stunt sponsored by energy drink Red Bull.  Millions viewed the event live on YouTube, and thousands more commented on various forms of social media during and after the jump, creating a huge amount of buzz for Red Bull.
Here are some of the highlights:
Nearly 7.3 million viewers watched Baumgartner live, moments before jumping
an estimated 8 million watched him make the jump on Sunday morning
Half the worldwide trending topics on Twitter had something to do with the jump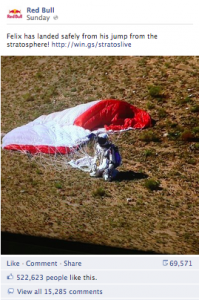 After a successful landing, Red Bull posted this picture of Baumgartner on Facebook, which totaled nearly 216,000 likes, 10,000 comments and more than 29,000 shares in less than 40 minutes (CBS News).  Just two days later, the same post has over 522,000 likes and over 15,000 comments.
Red Bull posted twice more about the jump since Sunday – to over 32.5 million fans on the brand's Facebook page –  with impressive levels of engagement.
How was Red Bull prepared to promote the event beyond the brand's existing social media presence?  In addition to the live video on YouTube, the brand established dedicated Twitter (over 250,000 followers) and Facebook (over 715,000 likes) accounts for the Red Bull Stratos project, and an Instagram feed.
Here's a look at the various hashtags associated with the event – with a strong presence for Red Bull's brand name (SalesForce blog):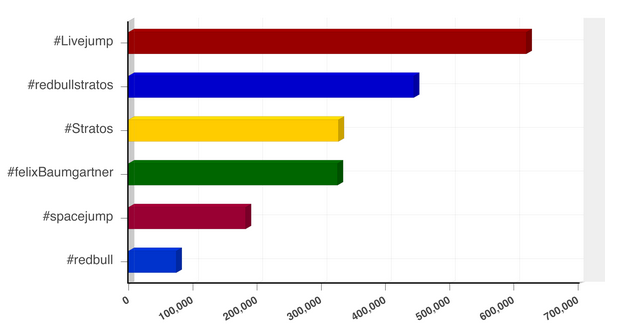 According to Forbes, this type of publicity stunt is "true spectacle in its purest form, beautiful in its ridiculousness." More importantly for marketers, it "feels incongruous in a world of banner ads and mailing lists." Which, Forbes claims, is exactly why it worked so well.
"Baumgartner's jump was that perfect social media campaign because it didn't go through the networks themselves, but through the people on the networks." While "Red Bull could easily have spent that same money buying ads on the biggest social networks" instead the brand found something exciting enough that "people spread the message for them."
Even NASA tweeted about the event: "Congratulations to Felix Baumgartner and RedBull Stratos on record-breaking leap from the edge of space!"  Baumgartner – a record-setting high-altitude jumper – promised this would be his final jump, reported CBS News.
What do you think – are big, daring publicity stunts even more effective in the world of social and realtime communication?  Are they really the "perfect" way (if your brand has the resources) to break through the bombardment of advertising and messaging that we see on an everyday basis?