Instagram adoption growth is outpacing that of other social networks among the world's top 100 brands, according to a new report by Simply Measured.  While Facebook and Twitter are already near 100% adoption, the use of smaller social networks is growing rapidly among these top brands, with Pinterest seeing a 24% increase in adoption and Instagram 35%.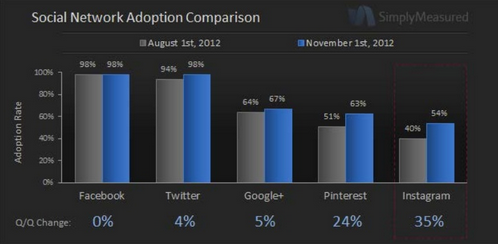 The majority (54%) of the top 100 brands are now using Instagram, according to the study.  While Facebook, Twitter, Google+ and Pinterest all are currently more popular among these brands, Instagram's high adoption rate indicates that this could change.  "Instagram's ability to attract top brands as a mobile-only platform serves as a reminder of the network's power, as well as a willingness among brands to adapt and move into new spaces."
The study also examines – out of those using Instagram – brand activity on the mobile photo-sharing platform.  Between August and November 2012, brand engagement has increased significantly.  The percentage of brands with active Instagram accounts has increased from 37% to 49%, and the the percentage of brands posting one or more photos per week has increased from 26% to 34%.  One-fifth (20%) of top brands have 10,000+ followers, and 18% of top brands have 20,000+ followers.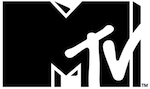 Eight of these top brands continue to dominate the platform: MTV, Starbucks Coffee, Burberry, Nike, Gucci, Tiffany & Co, Audi and GE.  Each brand has over 100,000 followers and together, they control 92% of top brand engagement on Instagram.  MTV, Nike and Audi particularly stand out, with higher levels of engagement via likes and comments.
The top 100 brands have seen an average of 210 interactions on Facebook per photo posted to Instagram.  For some brands this number has jumped even higher; Nike has seen a big lift in engagement on Facebook, with 612 likes per Instagram photo posted.
Is your brand using Instagram?  If so, have your efforts on the mobile photo-sharing platform been carrying over into likes and shares on other platforms – especially Facebook?