How Trade Shows Boost Your Sales Figures
Trade shows are a great way for businesses to promote themselves while gaining access to a wider consumer base than they already have. If you take the time to purchase space at a trade show that is relevant to your company, you can use it as an opportunity to successfully showcase your products or services to the public. And these efforts could very well result in higher sales figures.
Continue reading to learn more about how trade shows can boost your sales figures.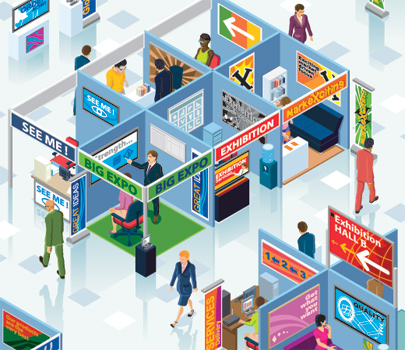 Make Sales on the Spot
As long as you're attending the right trade show for your type of business, you'll be exposing your company to people who could potentially become your customers. To generate money while you're there, be sure to bring along some products that you can sell to the people who walk up to your booth.
Demonstrate how the products are used, how durable they are, and how they can benefit consumers. Once people see your items in action, they'll be more likely to make an on-the-spot purchase, or at least consider making a purchase in the near future, and this will boost your sales figures.
You Can Generate Leads
Even if you don't make sales at the trade show itself, you can use your time there to generate some valuable leads that could result in sales in the future. In fact, one of the biggest benefits of attending a trade show and investing in a booth is the ability to attain leads that you can later contact via email.
For example, have people sign up for more information by scanning a QR code that's linked to your social media account or a page on which they can join your email list. The key is then to take the time to contact those leads and try to make a sale.
People Will Promote You By Word Of Mouth
When you exhibit at a trade show you'll be able to promote your brand to those in attendance. But the great aspect about a trade show is the fact that most of those attendees will end up going home or back to their workplaces to tell their friends and family about the businesses and products that they learned about. Therefore, you can also boost your sales figures by word of mouth as long as you connect with enough people and make enough of an impact on them.
Research The Trade Show Venue Ahead Of Time
When searching for the right trade show that you can use to exhibit your business to the public, take a look at sites like www.venuesearchlondon.com to learn more about the venue that you'll attending. Knowing the ins and outs of the venue can help you better prepare for the event, even when it comes down to deciding where you would prefer your booth be located.
Trade shows are a great way to boost your sales, provided that you prepare appropriately and you're able to generate enough interest by having a booth and products that really stand out.