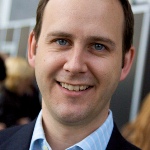 He as been called "an unstoppable force of nature," "the best corporate social media lead on the planet," and Alan Mulally, the CEO of Ford Motor Company, called him "a visionary." But perhaps the best way to describe Scott is "Renaissance Man." Friends and colleagues that know Scott from one facet of his life are very frequently surprised to learn of his interests and talents in other areas.
Scott is a marketing and communications professional focused on the digital industry — specifically on social media. His career has spanned a wide variety of industries such as healthcare, pharma, biotech, travel, automotive, tech, and communications, from start-ups to Fortune 500 companies.
Currently on the staff of corporate communications in Ford Motor Company, Scott heads up the social media function and holds the title Global Digital & Multimedia Communications Manager. He is a strategic advisor on all social media activities across the company, from blogger relations to marketing support, customer service to internal communications and more, as social media is being integrated into many facets of Ford business.
Prior to joining Ford, Scott served as Consigliere for crayon and spent a number of years with PJA Advertising + Marketing, a boutique BtoB agency specializing in health sciences & high tech.
In addition to his consulting and agency background, Scott is an active blogger and podcaster. He writes about the intersection of advertising, marketing and PR at The Social Media Marketing Blog and also writes The Baker Street Blog, a literary undertaking. Scott has been featured in numerous news and business publications, in over a dozen books, and on a variety of broadcast media from podcasts to NPR to national television. Scott is a recognized thought leader in the social media industry and frequently speaks at industry events.
Scott received his Master's in Medical Science from Boston University's School of Medicine concurrently with his MBA from BU's Graduate School of Management. He lives in the greater Detroit area with his wife and two young sons, golfs all too infrequently, and has a hidden talent for voice over work.
Oh, and one last little-known fact: Scott coined the Oxford Dictionary of English-accepted term "tweetup."