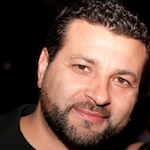 As Executive Vice President, Global Innovation & Integration for Edelman Digital, David's mandate is to uncover and activate innovative digital solutions for Edelman's clients as well as the firm. Armano also acts as Editor In Chief for Edelmandigital.com and has been working in the digital space since 1997. In his career, David has worked with global brands such as RIM, eBay, and adidas to name a few.
David is considered to be a highly influential voice on the subject of social media for business and has nearly 70,000 combined subscribers to his blog (Logic+Emotion) and Twitter stream. Logic+Emotion has consistently ranked in the top 25 marketing blogs according to the Ad Age Power 150. Prior to Edelman, David was a part of the founding team of social business consultancy Dachis Group and helped launch the business from stealth mode into the marketplace.
He also writes regular industry perspectives for the Harvard Business Review, and is best known for his distinct brand of visual thinking, which can be found both on the Web and in presentations all over the world. David serves on several boards advising start-ups, is an active judge in industry awards such as the Jay Chiat 4A's and co-founded the "Allhat" event series billed by SXSW as being populated by "the most respected voices in digital".