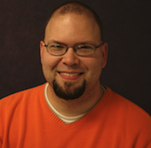 Jeff Cole is a recent transplant to Western Michigan, relocating from the suburbs of Chicago to work for Kellogg as their Senior Manager of Global Social Media Operations.
In his current role, Jeff helps provide guidance, insights, direction and best practices for Kellogg's social media practice. He helps internal and external partners with process and protocol for managing their paid, owned and earned social media efforts.
Jeff has spent his previous 15 years working at digital media agencies such as Digitas, MindShare and Giant Step helping such clients as Unilever, Kimberly Clark, Kraft and Wrigley navigate digital and emerging media. Beyond his background in social media, Jeff has helped clients navigate emerging media trends such as content and video distribution, peer-to-peer networking, video game integration and mobile advertising. He helped clients establish best practices and measurement principles to ensure these emerging opportunities met business objectives.