How important a role can social media play in your job search or recruiting efforts? New research by Bullhorn shows that nearly eight in ten (79%) of U.S. job opportunities are posted on at least one social network, and that the majority (55%) of jobs are posted to two or more social networks at a time.
Which social networks are the most popular for job postings? Not surprisingly, 

LinkedIn takes the lead with 77% of openings shared there.  A majority of job postings to social sites are on Twitter (54%) and just one in four (25%) are on Facebook.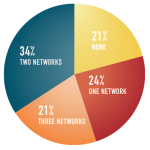 Of course, not all jobs are posted on social media: over one in five (21%) of jobs are not posted to any social sites.  Nearly one-quarter (24%) of jobs are posted to only one social network, 55% of jobs are posted to two or more social networks at a time, and 21% of jobs are posted to all three social networks (LinkedIn, Facebook and Twitter.)
The top industries embracing social media hiring include: restaurants, advertising and public relations, nonprofit, fashion and healthcare.
Usage also varied by region: the Northeast is the most active in social recruiting, while the Midwest is the least active.  The Northeast region uses LinkedIn and Twitter most heavily, but Facebook usage is heaviest in the West (including Alaska and Hawaii.)
"While LinkedIn continues to hold its position as the most widely used social network for recruiting, the fact that a majority of jobs are posted to at least two channels reinforces the notion that social networking should never be overlooked in any candidate's job search," said Art Papas, president and CEO of Bullhorn. "We designed these reports to be a resource for recruiters and job seekers alike so they can determine the best ways to find talent and jobs based on their industries and geographies."
The report is based on actual social network activity data pulled from the Bullhorn Reach user network of more than 77,500 recruiters. Click here to download the full 2012 Bullhorn Reach Rankings Report: An Inside Look at Social Recruiting.