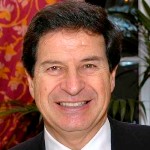 Bernardo A. Huberman is a Senior HP Fellow and director of the Social Computing Laboratory at HP Labs.  His current research is focused on the interaction between social behavior and information technology, with an emphasis on the phenomenon of crowdsourcing and social attention.
For a number of years Huberman's research has focused on the World Wide Web, the dynamics of its growth and use. This work helped uncover the nature of electronic markets, the detailed structure of the web and the laws governing the way people surf for information. One of the originators of the field of ecology of computation, Huberman published his book, "The Laws of the Web: Patterns in the Ecology of Information, " with MIT Press.
Previously, Huberman worked in theoretical physics and he is one of the discoverers of phenomenon of chaos in a number of physical systems.
In the field of information sciences, Huberman predicted the existence of phase transitions in artificial intelligence and large-scale distributed systems, and developed an economics approach to the problem of resource allocation in hard computational problems.
Huberman is a Fellow of the American Physical Society, a Fellow of the American Association for the Advancement of Science (AAAS), former trustee of the Aspen Center for Physics and Fellow of the Japan Society for the Promotion of Science, as well as a faculty member in Symbolic Systems Program at Stanford University.
Huberman received his PhD in Physics from the University of Pennsylvania, and is currently a Consulting Professor in the Department of Applied Physics at Stanford University. He has been a visiting professor at The University of Paris, The Niels Bohr Institute of the University of Copenhagen in Denmark and at INSEAD, the European School of Business in France. He was also a Research Fellow at Xerox PARC. He holds more than 25 patents and is the author of several hundred scientific papers.