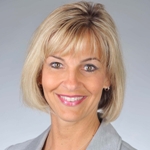 Allison Ausband is the Vice President of Reservation Sales and Customer Care for Delta Air Lines. In this role, she is responsible for 17 call centers in 9 countries, with 5,730 employees who handle an average of 55 million customer contacts each year and generate approximately $1.6 billion in annual sold revenue. Ms. Ausband previously held the title of Managing Director, Reservation Field Offices for Delta.
A 25-year Delta veteran, Ms. Ausband began her career in May 1985 as a flight attendant. Before joining Reservation Sales, she was Managing Director of Flight Attendants responsible for the performance of 20,000 Delta flight attendants. She held various other positions within In-Flight Service where she had the responsibility for departmental communication; program and policy development; as well as creating the first employee involvement team. Additionally, she served on the Corporate Steering Committee responsible for the creation of Song. In Reservations, Ms. Ausband developed and launched Reservation Sales' home-based employment program, creating a new virtual workforce culture that yields more than $1 million in savings each year. . She successfully executed a transformation plan for the Reservation's division, resulting in over $17 million annual savings. Prior to joining Delta, she was an announcer for a local radio station.
A graduate of the University of Georgia with a degree in Journalism, Ms. Ausband serves on the Board of Directors as Vice Chair for the Delta Community Credit Union is on the Board of Trustees for the Smith Foundation and an active member of her local church serving on the Personnel Committee.
A native of McDonough, Georgia, Ms. Ausband resides there with her husband Eddie, and her children, McKenzie, Shelby and Tripp.