The #RLTM Scoreboard:  Social Networking Stats for the Week
| | | |
| --- | --- | --- |
| Facebook: | 1 billion active users | via Facebook |
| Twitter: | over 500 million users | via Twopcharts |
| Qzone: | 599 million monthly active users | via TechCrunch |
| Sina Weibo: | over 400 million users | via Yahoo |
| Renren: | over 170 million users | via iResearch iUser Tracker |
| VK: | over 190 million users | via VK |
| LinkedIn: | 200 million active users | via LinkedIn |
| Google Plus: | 135 million monthly active users | via Google |
| Tumblr: | 98 million blogs | via Tumblr |
| Instagram: | 100 million users | via Instagram |
| Tagged: | 20 million unique monthly users | via Tagged |
| Foursquare: | nearly 30 million users | via Adweek |
| Pinterest: | over 25 million users | via AdWeek |
| Reddit: | 55 million monthly unique visitors | via Reddit |
Please email marissa@modernmediapartners.com if you have additional updates, or a social network that you feel should be on the list.
Who's Tweeting at #SXSW?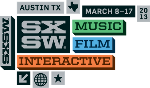 For a few days every year, the annual South by Southwest festival in Austin, Texas becomes the epicenter of the social networking world.  The tech- and social media-savvy come from all over to attend the interactive portion of the festival, and this year PeekAnalytics decided to take a closer look at this audience.  Over the weekend of March 8-10th (at the height of the interactive portion), the social audience measurement tool ran a report to gain insight into those posting to the festival's popular #SXSW hashtag on Twitter.
Here are some of the highlights:
#SXSW was mentioned by 71,454 unique users, for a total of 109,169 shares
the combined social reach of #SXSW tweets was 64.8 million

the audience skewed heavily male; 62% of the tweeters were men

#SXSW tweeters are fairly prosperous – 77% of those tweeting the tag earned at least $50k a year; 29% earned at least $100k

the audience consisted of nearly 3X as many individuals working in media as the average Twitter audience, and nearly 2.5X as many working in music
43% of SXSW tweeters were identified as "medium-to-heavy" social media users
#SXSW tweets overwhelmingly originated from the U.S. (78%); more tweets came from the festival's site of Texas (20%) than anywhere else, and Austin was the top city with 11% of tweets
Were you tweeting about #SXSW (or just hoping it would all stop soon)?