New data from the Pew Internet & American Life Project shows that African Americans and Latinos online are significantly more likely than whites to use Twitter. In addition, 1 in 10 African-Americans online visit Twitter daily – double the rate of Latinos that do so, and almost 4x the rate of whites.
The gap in Twitter use between African-Americans and whites online has doubled in the past six months. In November 2010, 13% of blacks online used Twitter vs. 5% of whites, showing an 8% difference.  Now, in May 2011 a whopping 25% of African-Americans online use Twitter vs. only 9% of whites, a 16% difference.
Nearly 1 in 5 (19%) of Hispanics online are Twitter users.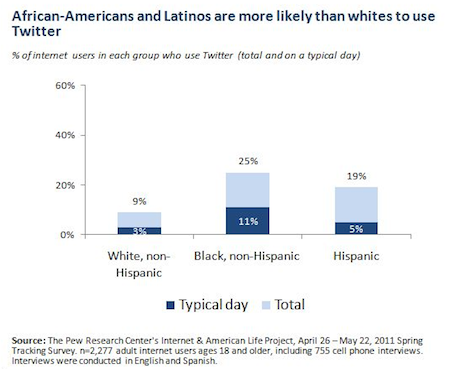 Additional highlights from the report:
13% of online adults use Twitter as of May 2011 – up from 8% in November 2010
54% on Twitter users with mobile phones use their mobile device to access the service
the number of 30-49 year olds who use the service has doubled, from 7% in November to 14% in May 2011
Access the full report here for more details.