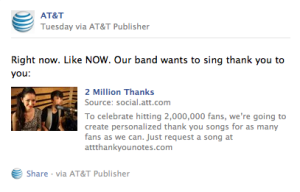 To celebrate reaching 2 million "likes" on Facebook, AT&T started singing to their Facebook fans.  The brand's "House Band" created a series of realtime, personalized songs in response to fan submissions, and posted them to Facebook and YouTube throughout May 21 and 22.
AT&T is the latest brand to start singing to their fans (Kraft Macaroni & Cheese debuted an a cappella song last month to thank 4,632 fans who had "liked" a status update), improvising songs for as many individual fans as possible within a 48-hour period.
The brand's Facebook fans were encouraged to use an app, which allowed each fan to tell the brand why he/she "is awesome."  The band – made up of Julliard-trained musicians – tracked the submissions, with a goal of creating 500 songs as part of the campaign.  Each fan's message was used to create a personal thank you song in one of several genres (including 70′s soul, heavy metal, hip hop, and more) chosen by the fan.
"We felt this milestone was important because it was indicative of the fact that we'd created a relationship with our fans," Morgan Dewan, a member of AT&T's youth marketing team, told MediaPost. "We wanted to give our fans a richer experience and do something fun."
According to Dewan, "Facebook is becoming the de facto platform for us to talk directly with our customers."  For this campaign, "We wanted to make it about them, not us."
View one example here: